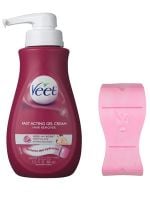 Veet Was Very Bad for Me

How much do I hate hair on my body? I began shaving my legs in third grade, without the knowledge of my parents. I used my father's very sharp double-edged razor blade and, with my motor skills not as honed as they later grew to be, wound up with a bloody mess. My parents became suspicious when I was wearing woolen knee socks in the summer. My mother understood my disdain for body hair as well...read more as my tendency to be stubborn and bought me a woman's electric razor. It was never as horrific a scene again, as my young skin was protected this way. Fast-forward to the days before my wedding. I had returned to using a good, thick shaving cream or shower gel and regular razor blades with a comfort strip because I want my skin to be devoid of even ONE hair and feel like marble. In my excitement for the ceremony, I shaved my legs and arms and ALSO then used Nair and a loofah afterward to achieve the aforementioned results (I know, I know!). I wound us with a rash so ferociously ugly that my husband nearly fainted when he saw through my elbow-length lace gloves. "You look like a fairy tale princess," he whispered to me after I came down the aisle, tears in his eyes, "but what the heck did you do to your arms?" There was one positive thing about the rash--we spent our honeymoon in Disneyworld and were able to move to the head of any line; people just backed away when they saw me coming. I didn't have good results with Veet. The idea of a plastic tool for removal is brilliant! I made sure NOT to shave beforehand or use any other products (my loofah was locked away). I covered my skin with the cream and the smell was less than pleasant. I left it on for the allotted time and the great majority of my fine hair remained. Ingrown hairs were brought to the surface, along with red patches and bumps. I don't have sensitive skin and can withstand what most women can't, but there was a terrible itching sensation. I couldn't get it off fast enough. So it's back to razors for me. It's hard to find an electric shaver that works closely enough, but Veet was a waste of money and caused me problems. I don't recommend it.

Not the best...

So it may just be that I'm not using enough product or this product just simply doesn't remove hair as nicely as waxing or even shaving does. It's a great idea, as it comes with a blade-less applicator that removes the cream and the hair but the product itself just doesn't work all too well. It's also a hassle having to wash the product off as some of it tends to stick and only come off after you ...read morerub, which in turn really irritates the skin. I'd skip this product and try another product or method of hair removal.

Better than Nair Brazilian Clay!

I was diagnosed with Poly Cystic Ovarian Syndrome 10 years back, and as a result I am a pro when it comes to hair removal. Before I had my laser hair removal done, I used a combination of razors and/or hair removal creams. For the most part, the only areas I remove hair from now are my legs and arms. I prefer using a hair removal cream for my arms and have been using the Nair Brazilian Clay pump. ...read moreIt has worked as good as can be expected, but I like Veet's version better. I am so surprised with the low reviews! I wonder if some people are not using it correctly? Veet has a low odor, creamy formula that doesn't irritate my skin as much as Nair does, and it also is not as "slimy" when rinsing it off. Some tips to keep in mind with any hair removal cream: 1. The hair must be covered by the lotion thickly. If it isn't, the hair will not come off. 2. One minute prior to rinsing off, redistribute the cream on the area to be removed. The cream/lotion tends to "settle" and the hair needs to be recovered. I just use my hands to recover the hair with the existing cream already on my arms. I couldn't believe what a discovery this was! Up until that point, I would either leave the cream on too long, which causes irritation, or it wouldn't take all of the hair off. 3. Rinse, rinse, rinse. I use a washcloth to rinse the cream and hair off with cool water. I never use the plastic piece that comes with the lotion. I think it would be useless and not as effective as the washcloth. The washcloth is what truly removes the hair because basically this lotion is gently "burning" or dissolving the hair off. Sometimes you can see little hairs that almost do look like they have been singed; this method helps to remove them completely without irritation. 4. If you feel a burning or stinging sensation, remove the cream immediately. It can lead to severe irritation, burns or even scarring. (I have two small scars above my lip from when I was young due to this very reason.) Sometimes our skin can be more sensitive than other times, so be sure to listen to what your body is telling you. If you do find that your skin has become irritated, try rinsing the area with cool water for several minutes, or applying a cool washcloth or cold compress. All in all, I love this version and will definitely repurchase. I have not had any negative experiences with this product. In addition, it was $1-$2 less than Nair. Love that!
Back
to top