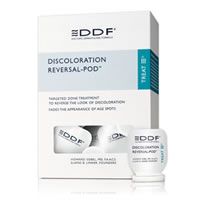 DDF Discoloration Reversal-Pod
As low as
Excited to be trying an award-winner!

I bought this product because it won an award from the dermatology team Prevention magazine put together in November/2008. I am following directions and using a strong sunscreen after applying; I do think I am noticing SOME lightening of my problem areas (forehead), I am in my third week of use. I am a Black woman, brown-skinned, so maybe it takes longer for people of color. The pods are easy to u...read morese, just be gentle when pressing on the little packets, they can explode suddenly and you lose some of the COSTLY creme. I am also using pods on the back of my neck, THAT will really tell the story...The award makes me willing to buy another box; so I will have used 2 boxes by the time spring/summer arrives and it's time to show off!! Will report back.

not impressed

i used the pods as directed at for the first two weeks but they really dried out my skin so i took it down a notch. either way i didnt see any change to the melasma/hyperpigmentation on my face.
Back
to top