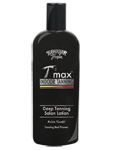 Great for sensitive skin & acne

It works. I got a better tan with this than the $40 salon stuff. Smells great. has no glycerine so it won't decay the acrylic tanning beds. It claimes to be hypoalergenic which i find meets my expectations. It's the only indoor tanning lotion i have found that DOSE NOT CLOG PORES. I didn't break out. It has a lot more tyrosine than the salon brands which is what helps to tan. I really like the way it made my skin feel firm and never greesey. it smells good and isn't strong smelling.

Good prioe, bad results.

I tried this lotion vs. usually buying the sample packs at about $5 a piece. I thought it was a great price, and it had most of the same ingredients that the other products had. I had great results with every lotion BUT this one. While in the tanning bed, I felt like i was getting burnt slightly, like a tingler effect, but the day after, I was scorched. I would definitely not recommend this product.

worth the price

Its a good product for a reasonable price.
Back
to top