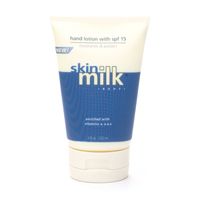 SkinMilk Hand Lotion with SPF 15
As low as
The Forgotten Skin - Your hands

So often your hands are exposed to sun damage and age because they are not protected. This is the most affordable and fabulous hand lotion that can also be used on your face in a pinch. I keep it in my car and reapply every time I get in.

Protect and Soften Skin at Same Time

I have been using this brand for the summer. I have very dry skin and use a lotion anyways. The extra built in sun protection makes it a bargain.
Back
to top