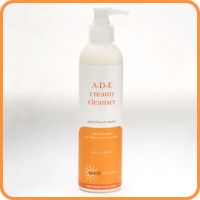 Earth Science A-D-E Creamy Cleanser
As low as
Doesn't feel like a cleanser

I tried this and hated it. It doesn't feel like it's getting your face clean at all. I don't mind non-foaming cleansers, but this felt like smearing body lotion on your face. It felt more like a cold cream than I expected. If you have very dry skin or like to use cold cream-type cleansers, this might work for you. Otherwise, pass on it.

A-M-A-Z-I-N-G!

I usually like foaming facial washes because I feel like they clean better than non-foaming ones. But the foaming action was making my skin dry and flaky. This product, which does not foam, has been my savior because it cleans, but doesn't foam! You also don't have to worry about rinsing your face off like crazy after using it because, unlike foaming facial cleansers, this one won't leave a film on your face.

Nice and creamy

This cleanser takes off makeup and sunscreen very well. It is a good choice for dry, sensitive skin because it cleans your skin without stripping it.
Back
to top