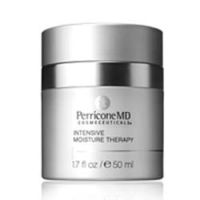 N.V. Perricone Intensive Moisture Therapy
As low as
Perricone products and my expectations..

This is one of the many Perricone moisturizers I've tried, and I've concluded that Perricone products don't live up to the hype. It's just overpriced and it doesn't work.

Intensive "Dry" Therapy

The name of the product should be changed to Intensive "Dry" Therapy. It's intensive all right, as it immediately sucks up all the moisture on my face, making my face red and itchy. Once I applied this product after Hydrating Nutrient Mask, it completely wiped out all the suppleness left on my skin from the wonderful mask. It is a horrible product for people with either dry or sensitive skin.

If you like the Sahara on you face

I have a dry patches on my forehead and under my eyes. In my quest to find a moisturizer to replace the uber expensive creme de la mer that works wonders on my dry skin I tried Intensive Moisture Therapy and was beyond dismayed. It took my moderately dry skin and turned it into a veritable desert with no oasis in sight. It seemed to actually suck whatever moisture was left in my skin right out. My quest continues.
Back
to top