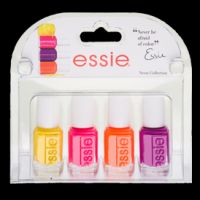 Essie Neon Collection Mini 4 Pack
As low as
Is it possible to feel lukewarm about neon?

Let me start by saying I love the concept of neon: blindingly bright colors that make your nails POP. With that said it can be shown that I am not a neon-hater (there are some out there) and I fully support my toenails looking like mini tennis balls. Unfortunately the neon color has not been mastered by the nail gods over at essie. The polish goes on without any shine (think back to fourth grade ...read morewhen you colored your nails with highlighter) and it chips after what felt like 2 hours. A light dish scrub after dinner tore my bright little purple babies right off. My toes got the pink and they are holding up okay but its only been two days since I got them painted so that isnt saying much as of yet.

Bright Colors = Hot

I wrote about these on my site when they came out. Super bright colors on the fingertips and toes looks so hot when the skin is tan. I wasn't into the yellow one at the time but yellow maybe I'll try it out now.
Back
to top