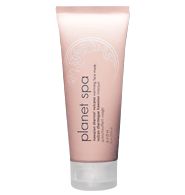 Not really a mask

This is kind of a weird product. Avon sells it as a mask but if you read the product it says it's a wash/scrub... It feels great going on - just mix it with water when you apply to get the full effect. The scent is great and it left my skin really soft.

false advertisement

A friend turned me on to this product. It has a nice smell to it and feels really good when it warms up with contact with water. I wouldn't really call it a mask because a mask implies that you leaves it on for awhile. They should change their label and call it a cleanser because that's more so what it is. Also is a great expoliator.

Heated Scrub

This is probably one of the best exfoliators I ever had. I really have no complaints about it. It heats up nicely on contact w/ water and if you spend a good minute massaging your face w/ it, the result is a VERY soft complexion. I notice right after usage that the blackheads on my nose don't stick out as much. To get the same result earlier, I would have to steam my face, exfoliate it and then do...read more some sort of mask, but this one product gives me the same exact results. I do agree that this isn't for everyday usage though.
Back
to top