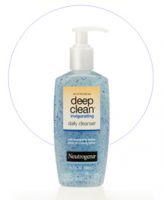 deep clean

this is a refreshing scrub that renews skin cells, making acne less noticeable. my skin feels softer, smoother, and more invigorated. the beads crush and make a nice lather. i highly recommend!

WOW!

I have been eyeing this cleanser for a while now. I kept picking it up and putting it back at the store. I was really worried that it would be too drying for my skin. Yesterday, I finally just took the plunge and purchased it. This morning, I reluctantly tried it. WOW! It was truely invigorating! It smells really nice too! With all that aside, it did not strip my face and my skin felt comfortable....read more Not overly dry, just right. I have combination skin with the tendancy to become dry, I am just one of those stubborn people who hate cream cleansers. I have to have lather (I know I'm not the only one out there)to feel cleansed. I say, try it!

Deep Clean!

This cleanser is great i have very acne-prone skin so my derm recommended topical face cream and this cleanser it cleared up my acne in less than 2 weeks, it's gentle enough to use daily and strong enough to keep my skin clear without over drying.
Back
to top