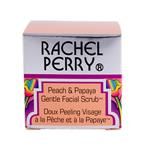 very wonderfull

a bit hard to find where I live

Wonderful

I'm a big fan of scrubs since I have dry skin im always in search of the perfect one. Normally I use the Clinique 7 day scrub which workes realy good but this one I think works better it leaves the skin so smooth but doesn't dry ir out or irritate it. I noticed it also gives the skin more of even even tone over time. I don't think it's neccessary to scrub the face wiht it just gently massage it an...read mored it will give great results. Also I only recommend using facial scrubs 1-2 times a week. Overall this product is one of my all time FAV! I RECOMMEND USING THIS WHILE YOUR FACE IS WET USING IT ON A DRY FACE CAN BE SOMEWHAT IRRITATING. i HAVE BEEN USING THIS FOR OVER 3 MONTHS AND i CAN SAY THAT MY SKIN LOOKS AND FEELS FLAWLESS i DON;T EVEN NEED FOUNDATION ANYMORE IT LOOKS LIKE i HAVE PORCELAIN SKIN.

Rachel Perry

I've used this product and it makes my skin feel wonderful. I recommend this to all my girlfriends.
Back
to top