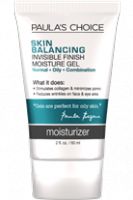 Great light gel moisturizer for sensitive combo skin

This is an great light gel moisturizer for very sensitive, allergy prone, combination skin. Most sensitive skin formulas are geared for severely dry skin. It has a lard like texture but it is not greasy. It does not cause acne. It lightly moisturizes dry areas, you can use it around your eyes. It is fragrance free and has no odor. It did leave a slight film on my face that peeled a bit under my foundation, but is great for night time. It is a value.

Love it!

This gel works beautifully for my sensitive/combo dry oily skin (lol). It's very silky and smooth, and gives adequate moisture without leaving a greasy feel to the skin. It's kinda like the Clinique dramatically different moisturizing gel in its consistency. I only wish it had spf, because this would work much better under makeup than the Paula's choice day moisturizers do. But it does work for a night moisturizer!

Perfect

I use it as a nighttime moisturizer and it stays matte from the moment it goes on until I take it off. It's light, moisturizing, and isn't going to feel strange/leave film on your skin. Perfect for combination skin. It also doubles as an eye cream and foundation primer.
Back
to top