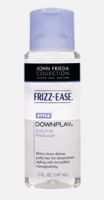 Review subject

Not a good look. I looked like I had not showered in weeks, but I still had flyaways.

Downplay Volume Reducer by John Freida

Not only did it calm my frizz, my hair was softer and had more shine

i acutally really like this stuff.

this stuff is. great. it smells realy nice, and it takes care of the frizz i get near my ends. theonly downside is that when you first put it in, it doesn't really make your hair soft or touchable, but after your hair dries its really nice, i used it last night before i went to bed on my damp hair, and thismorning i out a little extra on my ends, and my hair is smooth and shiny.
Back
to top