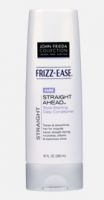 Heavy

This definitely helps prep hair if you're going to do a straight style but don;t expect to walk out, air dry, & look like you totally flat-ironed; it's not a miracle worker, it's a styling aid. Also, I wouldn't use if everyday. I have thick wavy hair that would get really weighed down by this stuff because it was so thick and heavy. I think that contributes to another problem I have with this prod...read moreuct: It doesn't leave my hair feeling as clean as I like. When I was using this I felt like I needed to wash my hair everyday when I usually shampoo every other day, it just felt like a lot of build-up. I prefer L'Oreal's Ever Sleek line to this because it's a lot lighter.

A BEAUTY MUST HAVE!

I have straight hair that tends to flip in and out at the bottom whenever it feels like it. so we were snowed out one day and i was out of conditioner. so i grabbed the first conditioner i found in my mom's cabinet and decided to borrow it... i ended up stealing it :) lol. my ends dont flip in and out anymore and i RARELY use a straightener. also, it gives you really soft hair :)

Miracle Worker

This stuff is great!
Back
to top