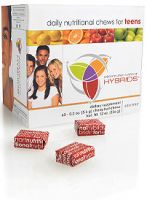 Arbonne Daily Nutritional Chews for Teens
Yuck-12 year-old son spit it out, and I can't blame him

I gave one of these to my 12 year-old son. He chewed it for about 3 seconds then spit it in the garbage. The look on his face said it all. Both of my sons take their vitamins, eat their veggies, and like the Viactive calcium chews. It's not difficult to get them to do something healthy so I was surprised by his reaction. I love the Arbonne nutritional supplement line, but if I can't get my so...read moren to eat it because it tastes awful, then it's a huge waste of money. Wait until they reformulate this product.
Back
to top