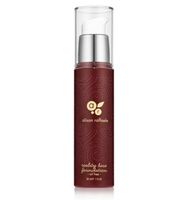 Not bad

Well, I received a sample of this foundation in my Total Beauty Collection box. When I first saw it I was excited to try something new, I have never heard of this brand before. I can't complain about the foundation itself other than the sample that I got was waaaaaay too dark for my skin, it came in as Skintone 3, and I would definitely need it to be about two shades lighter due to my skin being f...read moreair. So other than that, I really liked the texture, it gave my skin medium coverage, goes on easily, does not make me feel like I am wearing a heavy foundation, also, did not cause any new breakouts, which I was excited about, I would probably purchase this next time I need new foundation. Right now to finish this sample that I got I mix it with one of my light, different brand foundations, that way I do not waste any of it and the two mix so well together, my skin looks flawless after I apply it, I love it.

KATHIE

THIS IS A VERY LIGHTWEIGHT FOUNDATION THAT PROVIDES MEDIUM COVERAGE. PERFECT FOR ME SINCE I DONT USE LIQUID FOUNDATIONS, JUST POWDER, DUE TO THEIR HEAVINESS. I WOULD RECOMMEND!

Reality base foundation

This is amazing I love it I have alot of sun damage adn fine lines and you can not even tell that I am wearing this foundation.