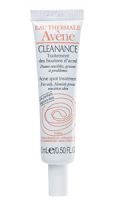 effective but overpriced...

I love a lot of products from the Avene line, and this one works well, but it's just not worth $16, when you have so many acne spot treatments half the price at the drugstore, like Neutrogena. Cleanance contains salicylic acid and therefore it really does make your pimples go away faster, but so does Neutrogena's 2-in-1 Fight & Fade Gel for $9.

LOVE!

This little tube definitely lasts longer than it looks! I got this back in China when I went to the doctor's when I was on vacation and I absolutely love it! I have gone though many acne treatments and this works the best! It treated my acne better than any others I have tried in the past. Most of those other treatments I had been through would sting my skin and I hated it! I would defininitely reccomend for someone who has sensitive skin along with bad acne.

Exclusively from the editors at Total Beauty

Get the Buying Guide to see these top-rated products!

Get it now »

completely free and clear

I've had problems with acne since my early teens, not anymore I love this product. Even the redness is gone. I look younger feel younger and my skin is so soft. I love this product.
Back
to top