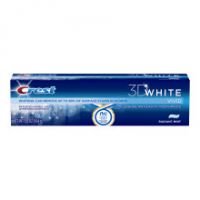 Great results!

I love this toothpaste! It actually does what it says, and my teeth are definately whiter :)

Ouch!

For about three weeks I had been getting huge and painful cold sores in my mouth. At first I thought it was stress, but after it didn't go away for weeks I was stumped. My entire mouth felt more sensitive. I was complaining about it to my mom and she mentioned that I should try a different toothpaste. I immediately stopped using Crest Vivid White and the problem was solved. If this is causing sores in my mouth it can't be a very healthy product.

THIS IS GREAT!!!

I absolutely love Crest Vivid White.!!! I was going to get the white strips but decided to get this instead(since strips are a little pricey) Just because its cheap, doesnt mean it sucks. My teeth were whiter, my breath was fresh AND the toothpaste actually tasted good. I noticed it working after the first time using it. I WILL DEFINETLY GET SOME MORE!!!
Back
to top