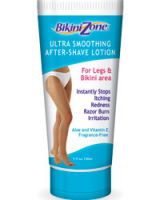 ew

Doesn't remove anything and smells like something died

ultra smoothing illusion.

There's got to be a better way and this one isn't it! I thought the lotion was stinky and didn't work at all!

Review subject

Obviously some of the other reviewers did not read what the intent of this product is. It is meant to be used AFTER shaving to reduce irritation....NOT to remove any hair. I have really sensitive skin and always used to get a lot of irritation and razor burn. I tried basically everything from using conditioner as shaving cream to buying every type of "sensitive skin" shaving cream out there and...read more nothing worked. (It had nothing to do with the dullness of the razor because I would use a new razor head every 4 shaves. I use the Venus Divine razor with 5 blades) This lotion is the exact thing I needed. I use it after shaving and it stops any irritation before it happens and keeps it from happening. It is the ONLY product I have found that does this. If you have extremely sensitive skin and need a good fix, I would highly suggest this lotion. But if you think it is going to remove any extra hair you should try reading the instructions because it won't.
Back
to top