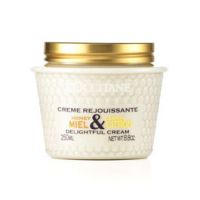 Editor's Rating & Review
Those with a sweet tooth for honey will indeed be delighted by the L'Occitane Honey & Lemon Delightful Cream's display-worthy, honeycombed pot of decadent cream. Though the thick, fragranced formula may not be ideal for the face (despite L'Occitane's advice), it sinks in quickly to give skin all-day, non-greasy moisture. The scent -- like a lemony custard with a dash of honey sweetness -- is strong and lasts several hours after applying, so make sure you're a fan before slathering it all over.
Reviewed by Sarah on 06/11/2008

How we review products
awesome

great feel, terrific scent and awesome reulst to skin...LOVE IT!

l'occitane honey &lemon delightful cream

the title says it all. it is delightful, a bit thick in texture, but it takes care of dry skin and has a delightful fragrance as well . applied daily , after a shower, and your dry skin appears to vanish. with the coming of the winter months, with less humidity in the air, you can say goodbye to dry, itchy, flaking skin. it's a great value for the money. it works for me.

I love L'Occitane!

I love this product, it always gets the job done. It has great moisture and penetrates deep into your skin without feeling greasy. It also seems to stay on your skin all day long. L'Occitane products are pricey, but are worth the money because the products deliver. I love the Honey and Lemon Delightful cream, and I would also recommend the L'Occitane hand lotion, it also works wonders!
Back
to top