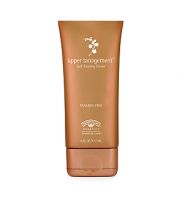 Nature's Gate Upper Tanagement
As low as
My favorite self-tanner

I have tried a lot of different self-tanning creams, and this is my current favorite. I get a natural color with one application, without any streaks or blotchiness. It also lasts up to a week with one application, and if I apply it a few times a week, I can build to a darker color. It definitely has that characteristic DHA smell, but it's not as bad as some formulas. The cover-up scent is dec...read moreent and not overpowering. My only complaint is that the lotion has a tint to it, which can rub off on clothing and bedding. It might be a nice addition if you like some instant color, but I usually apply self-tanner at night so I would prefer a non-tinted formula.

Best Tanner for my fair skin tone

I love this product! I have red hair, therefore I have very fair skin and burn easily. I have tried every tanner on store shelves and have found nothing that compares to this one. The lotion is very creamy and goes on very even. I do take time to rub it in thoroughly. It provides a natural looking color (all others turn me various shades of orange) that lasts for several days before I need to apply more. One bottle lasts me 3 months, sometimes more. Definitely worth the cost.

Pretty good

The color was good and looked fairly natural on me, but I was disappointed that this lotion still had a fairly strong smell. I found myself using it up very quickly, and I hoped that a thick application would be even, but I still ended up with some streaks. At least this didn't wash off right away, so I was able to reapply and even it out a little.
Back
to top