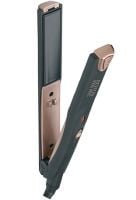 Review subject

The worst straightener ever made! This pulls my hair out, kinks no matter how hard I try not to, and burns hair terribly! Don't get this!

Review subject

I hate this straightener! I've burnt myself countless times and it doesn't straighten that well either.

Worst Ever!!!

This is by far the worst ever!! It snags your hair every time.I know how to use a straightener but burn my fingers, ears, and forehead every time I use it. So by the time your done you are a few strands from a great head of hair! DO NOT WASTE YOUR MONEY!!