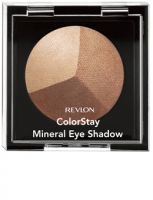 Creases...

Colors are pretty in the package, but it tends to crease and move around. I also noticed a slight allergy to this product.

Tiger eye

I love this shade. It makes my blue-gray eyes pop. It is great for every day & is not over powering.

Tiger Eye

I heard these were getting good reviews but was never tempted to try them as I already have so many brown/neutral eyeshadows, but CVS was selling it for 2 dollars so I decided to risk it. My trio is quite lovely, nothing out of the ordinary colorwise but that does not negate the prettiness of these shadows. I put these colors over the Revlon Illuminance Cream shadow in Skinlight and ended up with...read more a sheer, goldeny brown look that lasted at least the whole day. Good for a light and more natural look or for when you want to wear a more bold lipcolor.
Back
to top