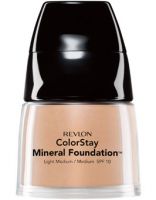 slightly below average

For a drugstore price, you can find a better mineral foundation. The brush is absolutely horrible. The coverage is so-so, and it has very little staying power, even when I used a primer before application. Finding the right shade was hard for me because it looks different in the container than when you put it on.

Best Mineral Powder I've tried

This is the first mineral foundation I've used that actually has a matte finish, not a strange metallic one. The coverage is good and it does last a longer time than most. I have to say the brush it comes with is useless, but I had a nice Bare Minerals brush at home, so I used that. I'd like to add that I have yet to see any benefit to using mineral makeup over traditional, talc-based powders. I'v...read moree been using only mineral foundations for many months now, and I don't break out any less than I ever did. I sure have been spending a lot more money, though!

Love it, light natural coverage

I love this foundation. It is light and makes me look like i have no make up on. Yet it lasts all day and even hides my blemishes. Only thing i dislike is the design of the container. It is hard to get the powder out once it gets low. I would bang it on my palm and use my own thick kabuki brush to apply it. It doesn't last as long this way but it is much quicker and easier and makes sure you get g...read moreood coverage. I have a different foundation now as it was a free gift but once it runs out i am returning to Revlon!