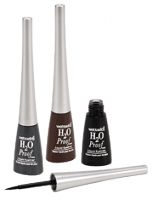 Ehhh....

Love how this is truly waterproof for those summer months but this liquid eyeliner takes forever just to dry. It's also super runny. I have to keep my eyes open while applying this or else it will smear on my bottom lashes. And it's a pain to take off--even with eye makeup remover. The applicator is really stiff and makes it hard to create a good winged liner. Might probably like this better if the product dried fast enough so it doesn't transfer on my undereye area.

No complaints!

This eyeliner works really really well. The tip is really smooth and easy to use, especially for a liquid liner. I do find that it can take a couple of swipes to get a fully opaque line, but the product does dry very very quickly and does not smudge. I've worn this out dancing and it has still stayed on through my sweating!

Did a waterproof test...

I was amazed at how waterproof it is. I splashed my face, and it stayed on. I was able to wash it off with my facial cleanser (Olay Deep Cleaning) and removed any remnants with Rimmel Eye Makeup Remover. Overall, very satisfied with this product. I thought it was a brush-tip but it's a sponge-tip and it was stiffer than what I'm use to. But I was able to work with it and got the hang of it.
Back
to top