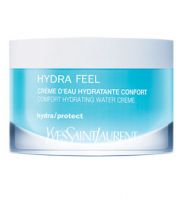 Yves Saint Laurent Beauty Hydra Feel Creme
As low as
Luxurious and creamy

This gives a nice dewy sheen to the skin , light reflective (similar to the look of the Touch Eclat foundation) and you won't need a highlighter on cheekbones as this seems to do that for you if you use a medium coverage foundation , non-greasy , hydrates well all day , feels light on the skin and has the lovely trademark YSL fragrance .... Contains what they call a baby-skin complex , which is ju...read morest fruit sugars to gently exfoliate your skin .... but protects with a protective barrier containing UVA protection .... I don't really like the jar packaging .. but I have decanted it into a small pot and just scoop out as I need it .... Also it is very expensive , but worried about trying other products in case they break me out badly and this serves the function of basic hydration which does it well.

I freaking love you!!

My skin is so frustrating, I cannot even describe the sadness and anger I've felt from pimples on my face. I've tried so many different different combos of cleansers and moisturizers, and this is by FAR the best one I've ever used! I have never been so happy with my skin. It feels moisturized but not greasy and not one big pimple. It may just be in my head... but I feel like my red acne scars are ...read morestarting to fade away as well. This is the first review i've ever written on any product only because I hope it will help someone who was going thru the same annoyances as me. Huge bummer that this great stuff has to be so expensive, and this is why I docked it a star... but I would probably still stick with it if it were $100 bc it is that wonderful. Good luck!

worth the price

Dewy fresh skin- amazingly 'cool' to the touch, and great to wear at the end of a 'sunlit' day. My skin has never felt so refreshed.
Back
to top