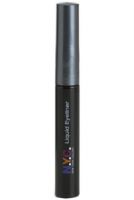 Surprised a lot of bad reviews....

Everyone raves about this eyeliner on YouTube. I'm usually not a fan of these kind of liquid eyeliners that has this same brush applicator concept especially after the Maybelline and Wet N Wild ones let me down. I can tell you this that this eyeliner is NOT good for beginners! The brush on this is long and can be kind of flimsy because it's not felt-tip so it can be tricky to control. But with tha...read moret being said, I hate how felt-tips can dry out and you will never have a problem with this brush because you dip the brush into the product. I love how this product is not watery like the Wet N Wild one and it's not too thick either. I just wipe the excess off on the rim before applying. This dries to a matte finish without peeling off and doesn't have that vinyl look if you're into matte eyeliner. I love how after putting this on, it acts as a primer for my lashes at the base so that when I curl my lashes, it holds the curl. This eyeliner performs better if you work in layers and not completely applying it to the eyelid without wiping excess off. I use my pinky to stabilize my application and once this sets (which didn't even take that long for me) I could get a precise perfect cat eye look. If you don't want it to transfer to your bottom lid, just close your eyes and fan your hands in front of your eyes to dry it quicker. I reach for this often. I love how it's super dark and although it doesn't smudge or smear a lot, it does transfer to my bottom lash line especially in my inner corner which is annoying. I have learned to apply the eyeliner not coating my lashes in the process because it will transfer to my bottom lash line. It is not waterproof so it washes off easily with just water. Once you learn how to use this liner and perfect it, you will love it like I have. And don't forget, it's such a bargain for $3.

Affordable, pigmented liner

The liner does apply without any effort at all and very smoothly, the liner is a very dark/deep black which is normally what I like in an eyeliner, so you can achieve a very dark black line without having to go over the line a few times. The formula is not too wet and not dry at all, which is perfect; the liner is smudge proof, within a few seconds the liner does dry, and when you rub on it the li...read morener does not budge nor smear, this is very important for me because I tend to rub my eyes a lot and I certainly don't want to look like a raccoon by the end of the day! The price is amazing for this liner, it retails for $2.99, which is really unbelievable for liquid eyeliners now days. The only con that I have for this product is the wand is a flimsy "nail polish like" wand which makes it hard for me to create even lines, normally I like felt tip pens because it makes the application so much easier for me. If you're very experienced with applying liquid eyeliner with these types of wands then you will love this liner because it is smudge-proof, it is long lasting, and the color is a very deep dark black. For me, I am sticking with felt tip which is why I will not repurchase this liner again (I do have their felt tip liquid liner which I LOVE and will be reviewing soon). This liner can be purchased at local drugstores such as Target, Rite Aid, K-Mart, Wal-Mart, etc.

Close to perfect

I'm really surprised to see so many bad reviews here, but perhaps they have changed the formula recently, because this eyeliner is really nice, and I'm very hard to please when it comes to eyeliners. I've got mine in black, and the color is gorgeous- great, intense pigmentation. The texture is good- not too liquid and not too thick, it goes on evenly and smoothly. The brush is one of those thinner...read more ones with longer flexible bristles, so if you like thick inflexible brushes, you might want to try something else. I find this brush easy to use, and I have no problem applying the liner evenly. I like that I can easily make a thin line close to my lashes. I haven't noticed it taking any longer to dry than other liquid eyeliners, so I don't know why other reviewers complained about this... I've been using the liner for about 2 months now, almost every day, in different weather and life situations, and it stayed put from the moment I put it on early in the morning to the moment I removed makeup at night. The color didn't fade, nothing flaked, nothing smudged- perfect line all day in all weather conditions despite it not being waterproof. A big plus for me is that it is easy to remove when it's time to do so. I will definitely buy this product again (hey, it's just 3$ for that beautiful black), and I highly recommend it, because they've made it right this time.
Back
to top