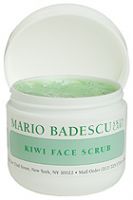 Great Scent but Only Okay Product

I love the scent of this facial scrub but scent alone won't help exfoliation. I found the kiwi seeds to be too large and too dispersed to be of any real help at exfoliating my skin. It rinsed off well enough but I still felt as if I had a "film" on my skin. For very sensitive/moderately sensitive skins this product would be great. It's not a harsh scrub and would not cause discomfort for easily irritated skin. For me, I like a little more "grain" to my facial scrub.

Gotta love the kiwi

I have pseudo-sensitive skin and this scrub is gentle enough to use daily (though I usually don't) yet effective enough at sloughing of dead skin that it keeps your complexion glowing and bright. It smells wonderful too!

Great stuff!

I received a free sample of this from the company. I love the smell. The product lived up to its claim. It is great. I will definitely be purchasing it in the future.
Back
to top