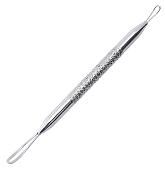 Thanks for selling to the public

I'm glad that this tool that dermatologists use is also available for us. I use it only once is a while in case of emergencies when I really need to extract my pores or acne. It could be dangerous for people who are obsessed to squeeze, but at least it's better than them using their fingers. I sterilize mine in rubbing alcohol after every use to make sure. I wish the wires were flatter and thinner to make the angle even closer to lay to the skin surfaces.

I don't get it.

So, I just don't get how to use this. Maybe its because I really don't have too bad of skin, but I've never had luck using this. It just hurts and doesn't extract anything!

Exclusively from the editors at Total Beauty

Get the Buying Guide to see these top-rated products!

Get it now »

Useful

This tool does work, especially around the nose area. It works better if you have just washed your face and used hot water to open up the pores. Be careful not to put too much pressure because it can hurt or damage your skin.
Back
to top