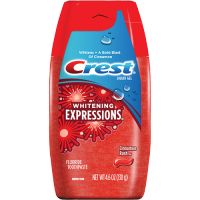 Doesn't clean too well.

It comes in a variety of flavors (Can you call it that?) but it doesn't clean well. My teeth are not whiter, nor do they feel as clean as with normal paste. You don't get that minty fresh feeling so it's not the greatest toothpaste.

been using this for a few years

for some reason, my teeth seemed to be EXTREMELY prone to getting cavities, despite regular brushing and flossing. i started using Crest Whitening espressions in Cinnamon Rush and haven't switched since then. it is not overpowering and does not burn the way some toothpastes do, and the taste is refreshing but not too strong. the only reason i don't give it a 10 is because it does not do anything at all to whiten.

I wished it cleaned as good as it tastes.

The first few times I used this everything was fine, but by the time I was done with the bottle I felt like I needed a professional cleaning.
Back
to top