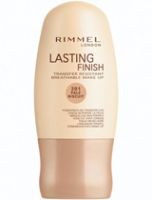 Like Concealer!

This has such high coverage, it doubles as a concealer. It will cover absolutely everything. The color selection is poor, needs more yellow base in their selections like revlon and maybelline, but for the price, I can't complain. It does last all day, but feels a little on the heavy side to me. It does glide on smoothly, and spreads better than Revlon's colorstay.

It's a keeper!

I noticed a load of mixed reviews on this product, but being Filipino and seeing as how the colors were in my line of shade I took a whack at it. I love this foundation, the formula and bottle has changed quite a bit but the whole 'no-transfer' thing is what caught my attention. I've dealt with every cheap to "fairly priced" foundation one could get a hold of. My skin color is a mix of o...read morelive and tan, something hard to match and hard to cover blemishes without the make up running in the other direction. Well, I wore this on a date from 4PM till 10PM. WOW. It lasted and with little to no transfer. Just one thing I wish they'd do: Add more yellow or olive undertones to the stuff than orange-peach.

Makes you breakout.

hate this product. It goes on way too thick, and the day after I used it, it made my skin break out SO badly. I looked like a pizza on thanksgiving morning. The color selection is terrible, and my face was orange. Do not buy this if you have acne.