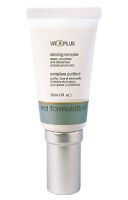 Completely cleared my skin

I am 14 years old and I have had severe acne since I was in ATLEAST 4th grade. I have tried everything. Proactive, Neutrogeana, prescribed meds from the doctor. I mean everything. It was such a struggle. If anyone knows how much acne hurts your self confidence

MD Formulations Vit-A-Plus Clearing Complex

I love this product!! I've suffered with adult acne for years and these products (especially the Adult Anti-Blemish Kit)is wonderful. No more cystic acne!!Yeah!!!!

Exclusively from the editors at Total Beauty

Get the Buying Guide to see these top-rated products!

Get it now »

a solution that works for me!

It's rare to find products that are aimed exclusively at adult acne. This brand has done just that, and after many trials that didn't clear up my acne, I tried the trail version of this brand. For the first time in about 10 years, I'm wearing less makeup, my skin looks great, and it's not dry and peeling.
Back
to top