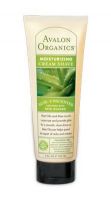 Pretty good but not the best

This works fairly well and isn't drying--much better than an aerosol shave gel. It doesn't work quite as well as my favorite shaving cream (Alba brand), or even a thick hair conditioner. It needs to be a little thicker to coat the skin better. It does the job OK, but I probably wouldn't purchase it again if my regular shaving cream was available.

Love it!

I bought this shaving cream for my husband when we decided to stop using products that were tested on animals. We bought Avalon's peppermint cream shave and my husband loves it (more than anything he has ever used)! He doesn't even need an after shave after using this product, it's extremely soothing on the skin and smells great. It does not lather like other shaving creams so he prefesr to leave ...read moreit applied on the skin for 5 mins before shaving for extra conditioning. Avalon is a little expensive in comparison to other non-organic brands but worth it both in quality and ethics.

This is sensational!

This shave cream is a completely helpful tool, when you have rough, dry skin like me!
Back
to top