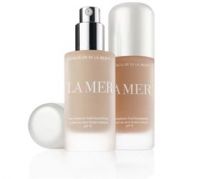 Lovely But Heavy

If you read my previous comments on La Mer's line of product, I am all over the place with my ratings. I love the eye concentrate and loathe the price of the "miracle broth" moisturizer. The foundation -- again, very pricey --is a lovely, moiturizing foundation, but too heavy for my taste. Less is more with aging in my opinion. This is a good choice for women who likes a heavier look.

Great foundation

I really like this foundation. You just need an expert to match you correctly. If you add a little bit of la mer translucent powder to finish you look pretty flawless. Definitely worth the money.

Lightweight feel, good coverage

I was already a fan of the famed Creme de la Mer when I discovered that La Mer also made foundation. It gives a good amount of coverage, but feels light on. Like you aren't wearing any foundation at all. All in all, I'd say it's one of the best foundations I've tried, and I've tried a lot!