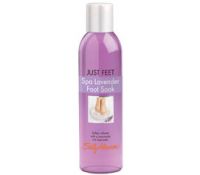 Sally Hansen Just Feet Spa Lavender Foot Soak
As low as
Just feet spa lavender foot soak

I love lavender anything. This soak is really good. Softens feet and calms tired feet. I do, however, add Epson Salts when I have really sore and tired feet. I use this soak when doing a pedicure.

I like this a lot!

I give myself mani's and pedi's quite often, and I do notice a difference after using this soak compared to just warm soapy water. I have sensitive skin and it doesn't dry it as much as soap. I even use a little bit of this to soak my hands when I give myself a manicure and it works charms at loosening up my cuticles. Completely makes the difference for me. I do have to scoop out the bubbles. I would prefer more of a liquid concentrate.

Its just OK

This foot soak it okay, it does nothing special; almost like using soap without leaving your feet feeling dry. Its inexpensive so its kind of like having a little bit of luxury for a nice price when giving yourself a pedicure or just trying to relax. Overall a good product.
Back
to top