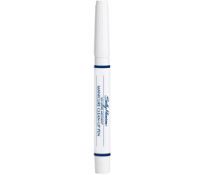 Could use some improvements, but still worth it!

I usually do my own nails, and frequently get a bit of nail polish on my cuticles or on the skin around the nail bed. I usually try to scrape it off right away with some cardstock but sometimes I don't always get all of it. I know some people use Q-tips and polish remover but sometimes the little fibers from the Q-tips stick to the polish. This clean-up pen isn't perfect in that the tip tends to g...read moreet gunked up and then it doesn't work as well. But following one of the reviewer's tip to dip it in polish remover and wipe it off would probably help. Overall a pretty useful tool, worth the couple of bucks I spent!

Review subject

This wa a great idea. At first I loved it, but it dried out so quick I won't be purchasing again. I dip a q-tip in nail polish remover, and use that.

Did not meet expectations

The first time it worked nicely, and then, went down the hill from there. Although it came with two replacement tips, the tip became dirty and dried very quick. I wanted to use the tip a few more times, but then it became harder to correct mistakes. This pen may be more convenient, but Q-tip dipped in a nail polish remover can do a similar or even better job.
Back
to top