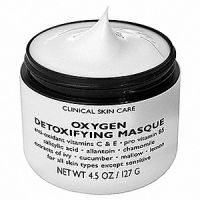 Not Pleased

I was very disappointed in this product. The other products that I have tried from this line have all been satisfactory. This one, however, failed. My skin is oily and not sensitive but with this product I experienced burning and discomfort. I saw no results that were worthwhile if any at all. This feels very "goopy" on skin and the smell is not pleasant. I will not purchase this item again.

Not for me.

I don't have mature skin so when I applied this I thought my face was on fire. It made me blotchy red and my face burned and burned. I took it off immediately and returned it just as fast. I've tried oxygen masks and this one was way to strong for me.

Amazing product!

I used to work in the makeup and skincare industry for years. This is one of the products that will use forever. I Love it! well worth every penny. A little goes a long way. It only needs to stay on for a very short period of time to do its job and you can see the results instantly. I always recommend using a test spot before applying any product to the entire face just in case your skin is sensitive to a particular products ingredients.
Back
to top