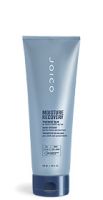 Review subject

This is the best! I have really coarse hair, so it gives me just the right amount of control.

good but a bit heavy

It seems to moisturize my hair a lot!! :) But, I find it leaves it more straigt, I prefere my curls to have a bit more volume to it.

Great Product

My thick, wavy hair has always been dry and damaged from highlighting and flat-ironing. Then I moved from Florida to Utah and "dry" took on a whole new meaning! My hair felt like straw and nothing I had previously used worked. A sales rep at Ulta recommended this product to me and all I can say is "wow"! After one use, my hair was softer and more manageable than it ever was...read more when I lived in the south. I could actually run my hand through my hair without hitting a tangle, causing breakage, and accidentally pulling out a hair. I'd heard Joico had great products, but now I'm completely sold. And the price wasn't that bad - comparable to other salon products like Redken (which I'd mostly used). I honestly can't think of a single bad thing to say about this product - it's that good.
Back
to top