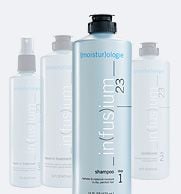 Animal Testing

They test on animals, so I would not recommend this product or anything else by Infusium

Infusium 23 classically good!

I love this one...and my hairstylist in NYC agrees..makes it smooth and looks less damaged

Discontinued?

I finally found a shampoo and conditioner I will be using for a very long time. I would always always buy different kinds of shampoo, each one claiming to "de-frizz" or "add moisture", etc. Infusium 23 (Moisture)ologie actually did exactly what it claimed to do. This is the first shampoo that I have bought, and finished and ran out to the store to buy again. It smells great, works fantastic, clean...read mores the junk out of my hair and leaves it smooth and healthy. People have been complimenting me on my shiny, healthy looking hair. I am impressed and obsessed!!!!
Back
to top