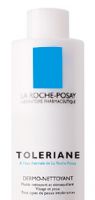 Not my preference, could be yours

My skintype: Acne-prone/combination My skintone: Fair with pink undertones I was disappointed that this product was not a match for my face. The cleanser itself is entirely decent--I commend it for the lack of chemicals and other irritating ingredients and how comfortable it left my skin after washing. [I use a prescription retinoid, meaning if I don't apply something immediately after cleansing-...read more-my face feels tight] However, keep in mind this is a milk cleanser and it will leave a film on your skin. [I was unaware of this when I purchased the product] This was one of the chief issues I had, being that I have the tendency to breakout--I detested the feeling of something being left on my face. Secondly, although this is marketed as a makeup removal fluid--if you're just using water to rinse the product off and not tissue [as I was], forget it. That said, if you have drier/sensitive skin--I don't see why this product wouldn't work for you.

Very Gentle without the harsh chemicals

This cleanser completely changed my complexion. I had lots of redness and after using this for a couple of weeks my face is no longer red and splotchy. I would suggest this product to anyone who wants to get rid of the redness that is usually associated with some cleansers.

the best you can get!

gentle,calming and makes your skin feel wonderful!
Back
to top