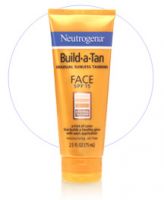 Smell

I know avoiding the smell of the DHA is pretty much unavoidable in ANY self-tanning product, but this one is especially smelly. Best to apply a touch of it before bed so you can avoid the peak of the stinkiness, which is about 3 hours post-application. I would be willing to go through all this trouble if it gave good color, but sadly, the tan it gives is unnatural and more orange than other drug store brands. Stick with Jergens.

Best self tanner for its price

I love this!

Ewwwww....what's that smell

I am usually a fan of Neutrogena's skin care products but not this one. All self tanners create a smell due to their ingredients and this is important to remember but this one was especially potent. It was probably more noticeable because it is applied to your face and the smell became even more noticeable after 3-4hours. I did like the fact that the product allows for a gradual build in color bec...read moreause you aren't fooling anyone when you go from pale to bronze in a day! LOL. If you can get over the smell factor, the color created was not bad. I have fair skin with blue undertones and it did not pull orange on me at all but I would highly reccomend blending like crazy around the ear and jawline and into the neck to avoid a noticeable color line.
Back
to top