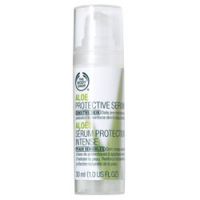 Aloe or Vitamin E

I've been trying to decide which line to go with at the Body shop for my day use. It's between Aloe and Vitamin E. This weekend my boyfriend and I went to try out some more to help me decide. This Aloe serum felt really good going on and after it was absorbed. It left me smooth and silky. My man loved it. I think I'm leaning towards the aloe.

Didn't help my redness

I hate to be the first to say mean things about this serum, but I was unpleasantly surprised by its inefficacy. I received a sample of this which I used every night (for about two weeks) between toning and moisturizing. It smelled awful and didn't handle the redness on my nose and cheeks. I like that it contains good bacteria, absorbs quickly, and doesn't clog pores, but otherwise it's a dud.

Okay product

This serum isn't as good as the one I use now, it's not as rich and hydrating. I upgraded to Origins.
Back
to top