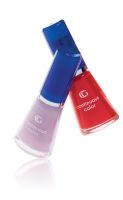 Rose Quartz for subtle but sexy toenails

I've been polishing my toenails with CG in Rose Quartz for so long I hardly recognize my feet without it. Applies easily, long wearing and a great value for just the right amount of shimmer.

pretty good

pros- you don't need to fuss with a top coat (I'm still putting a base coat, I'm not trying to stain my nails over time) -long lasting Cons- colors are kind of limited to popular colors, so no new cool funky colors Bottom line- if you're looking for a red or pink color, this is a great option.

beautiful colors, reasonable prices

AFA nail polish prices go, Cover Girl is a good price, relatively. CG is doing lots of things right. Why else be in the business successfully as they have? I'd buy CG nail polishes again and again. I have 4 bottles in my collection. I also like to "make" my own colors--these mix well. For ex., 1/2 a bottle of red and 1/2 white give me a new shade. It's probably not suggested, but I...read more've added a few drops of nail polish remover to old, almost empty bottles of nail polish and stretched them out for a few more manicures.
Back
to top