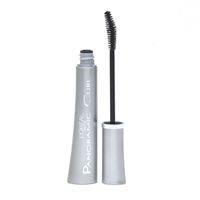 One of my favorites! (waterproof)

FYI-- I have the waterproof version of this, but TB doesn't have that so I'm doing a review on the original. And...I love it! Finally a product that actually lives up to its claims. This mascara stays on my lashes all day without smudging or flaking. It also holds curl beautifully, that's a big deal because my lashes are quite straight. Clumping is minimal, which I also appreciate. The brush is un...read moreique too; it's curved but not so much so that it's hard to work with. The only thing I would change about this mascara is if it gave me just a little more volume. Other than that, it's the closest to perfect that I've tried! If you have trouble keeping your lashes curled, try this!

Best Mascara I've ever wore!

I love this mascara, and I have yet to find another one come close to being as good. Very sadly, I think this mascara has been discontinued! I've looked everywhere and none of the stores that usually sold this does not have them out on their racks anymore! Does anyone know if this is true??

An allright mascara

I didn't really notice any curl, but I did notice well defined, lengthened lashes. It stayed on well, but was difficult to remove with the contacts in...won't make that mistake again. Probably won't buy again...
Back
to top