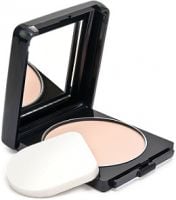 Good Product.

It works well, but not my favorite brand. Bought it because the price is very reasonable.

Superior Coverage

For a bargain product, this is exceptionally good. It covers REALLY well, and it doesn't rub off too easily. It looks natural, not cakey. It controls oil better than mineral foundation, but I still like an extra dusting of powder over the top of this to really set it.

Gives Pretty Good Coverage, But Isn't The Best For Oil-Control

I am a powder foundation junkie, so I of course have used this product before. I like that it does give pretty good goverage and it also is pretty long-lasting. However, its oil-control properties seem to be lacking. As, it doesn't control mid-day oiliness that erupts all that well.