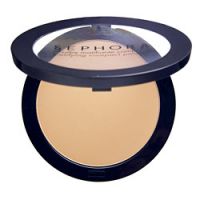 GREAT product, TERRIBLE packaging

I work at a Sephora and I am a product junkie. Believe me when I say that I have tried it all! Even products that aren't sold at a Sephora! Needless to say, Sephora has REALLY [recently] stepped up their game to produce BETTER quality products that match and even surpass the quality of higher-end luxury products! My skin has been going through a massive change due to the environment/hormones/age/d...read moreiet/etc. Your skin is always changing because it's the largest organ on your body and it's exposed to external elements. SO, I have been searching for a powder that goes on well and I have tried a lot of HORRIBLE products. Believe me when I say that I have tried EVERYTHING from Smashbox, Nars, Mac, to even cheaper drug store products and EVERYTHING in between. The Sephora mattifying powder compact has beat ALL of these. Sephora must have done something differently with the formula because it is better than ever. It goes on RAZOR sharp, meaning you can't even see any powder on your face. It gives you very natural sheer to medium coverage that does NOT cake on your face and it does not emphasize dry, flaky skin, nor lines. Also, the Sephora compact has the largest range of shades so that it will actually match the color of your skin (no having to suffice with a basic "light" or "medium" powder that's a little off). One thing you need to know is there there are two different family of shades. There are "R" and "D". "D" is the most common and that's for warmer, yellow or neutral tones and "R" is for cooler, pink tones. My shade is D25 and that matches my skin perfectly without making me look too light, dark or too pink! It's perfect! Plus, the coverage lasts for a LONG time! It's great at taking away shine too. I personally like to use a brush because I like sheerer coverage, but using the sponge gives you a soft medium coverage as well. This is a GREAT powder, which is EASILY my favorite because it surpasses higher luxury brands that cake and give a terrible finish. The only thing I HATE about this is the packaging. It tends to break VERY easily. Also, when you have the cap open, you have to flip the product so the bottom compartment is revealed where it holds its sponge and mirror. Like I said, the top cap tends to break VERY easily. So even though Sephora has AMPED the quality of it's products, it still needs to have a major redesign overhaul. It's $20 for a compact which is much pricier than drug store brands, but still MUCH cheaper than other luxury brands like Nars, Mac, Benefit, etc. It's worth it!

Not anymore

This used to be my favorite powder foundation. For YEARS it was all I would wear. They changed it once couple years ago, with the same packaging and different color names, but I was able to still find a perfect match. They recently changed it again--the packaging AND the colors--and I have to find a new favorite. They no longer make this in a color that matches my complexion. The new packaging is ...read morebetter, more durable and easier to use, but I hate the new sponge they've included with it. It's crescent shaped instead of a circle, and eve with practice I find it hard to use. The formula seems to still be good, though, if you can find a color that matches.

I Liked It!

This powder was added coverage and reduced shine, without looking cakey and obvious. It seemed to last all day and I like the price and the wide variety of shades. It has a nice texture and felt good on my skin.
Back
to top