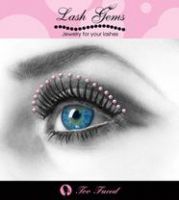 Too Faced Lash Gems
As low as
Too Faced Lash Gems

I thought this was a great idea for a really "notice me" look, but I just had a really difficult time with them. I could not seem to get the hang of them, they fell off, and I just gave up. I think if you are used to putting false eyelashes on and are really rock steady, they may work for you, but they were a total bust for me.

fun! fun fun fun....

im always looking for a way to add a little extra something to my look and these little balls are great! my only complaint is you really gotta use them up once you open them b/c the case doesnt keep them too fresh, and if your'e not competant at using glue and applying falsh lashes and the like, you'll have a little [or a lot[ of trouble applying these. once you get it figured out tho, they really...read more do get you noticed. i like to match them to my jewlry, and they pick up the color in my faux freckle too, its too fun. worth a try, btw you'll never get the cover look w/o a set of spikey falsies on first.

fun

these made my halloween costume perfect, and weren't to hard to handle!
Back
to top