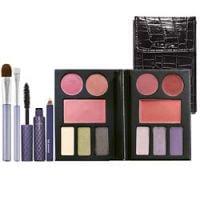 Tarte Ready-to-Wear/ Pret-a-Porter Dual Look Palette ($200 Value)
Perfect for Eyes, Cheeks and Face

This palette comes in a very attractive and expensive looking case. The kit includes a 3 shadow set of purples and green eyeshadows, lipsticks (2 each) and two blushes. I use a lipstick brush for the lipsticks because they are too difficult to apply with your fingers. The two sets of colors are coordinated to go together so they look natural. It also includes an average mascara, a liner that...read more blends well, eyeshadow applicator brush which is good qualityl. The coordinated colors are warm colors and cool colors, but you can still obtain a nice look by using things from each color palette; in other words, experiment and don't feel locked in to how the colors are presented. I found the pink blush and lipstick look better with the cool colors. (purples). This is a wonderful palette, and has everything you need for your eyes, cheeks and lips. Nice to carry in your purse.
Back
to top