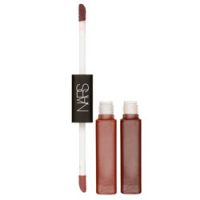 OMG YES!!!!

This is a little expensive but it is worth it! I love the many colors especially the red/gold pair. Very sex lips! But please apply the stain with the utmost care, remember to start with a little color and build from there.

apply carefully

Great stain; if applied with fingers or a lip brush. If you use the wand that comes with it, you will deposit too much product and end up looking like a clown. I apply a thin coat with my lip brush to my top lip and press my lips together. I emphasize thin coat. In order for you to get the stain effect the product must be applied sparingly. One of the drawbacks of that is, if you don't h...read moreave your lip brush with you, your finger application stains not only your lips, but your fingers. Other than that, it is a wonderful product. I have Sayonara which is a vibrant, yet wearable pink and Daredevil which is a dark red. I have had both tubes for over a year, they are still almost full because so little product is needed. Non-drying, and long wearing. Color goes on evenly and smoothly.

Really Great Value

I bought this solely because it was $10 for one at Sephora...so naturally I had to get 2 (Turkish Delight Gloss/Sayonara Stain and Stolen Kisses Gloss/Pampa Stain). I already owned a Nars lipgloss, which I love, so I knew I'd like this. I have yet to try the stains, and I will definitely take heed of the advice people give in this reviews as to not deposit too much color and use it very sparingl...read morey. The 2 glosses are awesome thus far though. Turkish Delight is a nice, pale, non-shimmery (which is very important to me) pink color, which would look amazing with a smoky eye. Stolen Kisses is a dark nude with a hint of rose and looks great with everyday makeup and at work. Would I spend more than $10 on this? Maybe...but not much more...I'd probably max out at about $15...but then I wouldn't get 2, and where's the fun in that?!
Back
to top