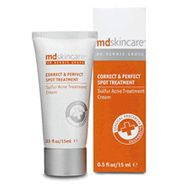 Makes mole hills out of mountains.

I use this at night and it really takes inflammation and redness down! It is pricier than most spot treatments, but in my opinion, worth every cent. You're not using a whole bottle... just a dab will do ya! Since it's sulfur based it doesn't smell great at first but you won't notice it after 5 minutes. Small price to pay for a smaller pimple! It will take down my massive ones very quickly, 1-...read more2 nights. Most of them are barely noticeable by morning though! This is in my skincare arsenal at all times. I keep trying others, but this is the one I go back to.

Good preventative treatment

I used this as a spot treatment before I discovered EradiKate Acne Treatment and it worked OK. It calmed down the inflammation and redness and made most pimples go away within a few day, without drying my skin out at all. Now I use it daily in a preventative way by applying it to common breakout areas and blending it in well before I apply moisturizer and makeup.

Exclusively from the editors at Total Beauty

Get the Buying Guide to see these top-rated products!

Get it now »

Fast action for acne

I have adult acne and have had limited success with everything I've tried before this. Either it over-dries my skin or leaves scabs and subsequent scaring. The spot treatment is designed for "bumpy" acne, the kind that is inflamed due to infection under the skin. I had no less than a dozen pimples in various stages when I tried this. The next morning, all redness was gone and I exper...read moreienced only superficial peeling of a very thin layer of skin that was taken care of simply by washing my face. This treatment quickly draws the impurities out of the pore, allowing the skin to heal rapidly. After using this for three days, all emerging acne is gone and the blemishes that were taking weeks to heal look much better. There is a mild sulfur smell to the product, which I would rather have than skin-irritating fragrances. And on my skin, it leaves a bit of a chalkiness, so I prefer to use it at night. The only other thing that kept this from getting a 10/10 is the price. However, for results like this, I will gladly pay $28 every several months.
Back
to top