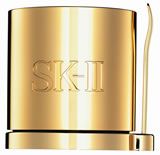 SK-II Ultimate Revival Cream
As low as
Absolutely The Best

The cream feels absolutely wonderful on my skin. It's very rich, so I use very little in the morning around my eye areas and my cheeks and a bit around the T-zone as recommended by my consultant. It serves to be primer for concealer. My skin looks dewy and feels very soft. It's quite expansive but worth every penny.

Spend your money elsewhere

Having tried several different products from SK-II, I had high hopes for this "ultimate" cream. Unfortunately, I think the pitera ingredient they so reverently pontificate about is a one trick pony. It's present in all their products and I don't see anything different about this one...except for the fact that it was absolutely the thickest, most tacky feeling cream I'd ever tried. If ...read moreI were an extremely dry skinned person, perhaps the sensation of a sticky barrier resting on my skin's surface would feel comfortable, but this normal/slightly combination skin did not enjoy it. I woke up the next morning and my pores seemed larger and I was a little blotchy. And the rose smell...pervasive. It reminded me of Perricone's Face Finishing Moisturizer except an even stronger old lady rose scent. Not for the faint of heart (or nose). That said, I think there is some merit to the ingredients listed in the product...just not my favorite formulation. For less than a third the price, I think you can experience the benefits of this line from one product; their much hyped Facial Treatment Essence. It's pretty much just water and Pitera and I think it delivers nice results.
Back
to top